Climate Emergency
On 27 June 2019 Dumfries and Galloway Full Council agreed to declare a Climate Emergency.
In agreeing the Declaration, the Council recognised that this represented a radical and comprehensive step change in the Council's approach. Full Council agreed a 12-point action plan:
There is a specific Council Priority designed to combat Climate Change:
Urgently respond to climate change and transition to a carbon neutral region
Commitments
Encourage understanding of how the way we live and work in the region impacts on climate change
Empower our communities and stakeholders to make significant changes to reduce emissions and adapt to a low carbon approach
Lead on the transition to cleaner and greener technologies
Promote and protect our region's natural environment
Contribute to a greener economy, maximising the region's green energy potential
What we are doing?
Council Departments have climate change at the heart of their activities and will consider this Council Priority in all future policies and practices.
The Council are currently working in partnership with many organisations across the region and nationally to developing a regional baseline emissions inventory. This baseline will be the basis to inform the Strategic Plan to guide the region to net zero carbon in line with the 12-point plan.
We became a Carbon Literate Council when we achieved our Carbon Literacy Bronze Award in September 2020, the first non-metropolitan Scottish Local Authority to do this.
Carbon Literacy means "An awareness of the carbon dioxide costs and impacts of everyday activities, and the ability and motivation to reduce emissions on an individual, community and organisational basis".
This means that the Council has a clearer understanding of what causes climate change, what needs to be done to address it and is taking immediate measures to counteract the effects of global warming.
We are very proud of our achievement; Carbon Literacy training has been recognised by the United Nations.
Carbon Neutral Strategic Plan
Our new Carbon Neutral Strategic Plan provides a route map to give direction and identifies key priorities and points of action for the Council.
Partnership working is at the heart of this new Strategic Plan. Our communities have a major part to play, and we are committed to providing support, encouragement and expert advice where we can.
The Declaration represents a fundamental shift in our understanding as a council about what becoming carbon neutral means. Greater progress will be achieved when we work together, it benefits everyone, and it is everyone's job to act.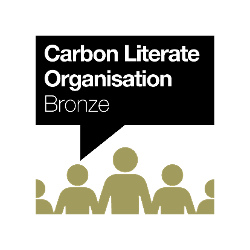 What can individuals do to support the regional net zero carbon targets?
Individuals can calculate and reduce your own carbon footprint as well as influencing others to do the same.
Calculate your carbon footprint >>
Useful links
Environmental projects within our region:
Galloway Glens:
Biosphere
Climate Ready Ken
Borderlands Inclusive Growth Deal
Chapel Cross
Reporting on Biodiversity in Dumfries and Galloway
Under the Nature Conservation (Scotland) Act (2004), all public bodies in Scotland are required to further the conservation of biodiversity when carrying out their responsibilities. The Wildlife and Natural Environment (Scotland) Act (2011) also requires public bodies in Scotland to provide a publicly available report, every three years, on the actions which they have taken to meet this biodiversity duty.
This document outlines what Dumfries and Galloway Council is doing to fulfil this duty.
Page last updated: 12/08/2022