The George Hotel, Stranraer
The George Hotel in Stranraer was purchased by the Council on 13 December 2017 to enable the building to be safeguarded from ongoing deterioration with a view to it being restored and re-used.
The building is category B Listed and occupies a prominent corner site in the heart of Stranraer town centre.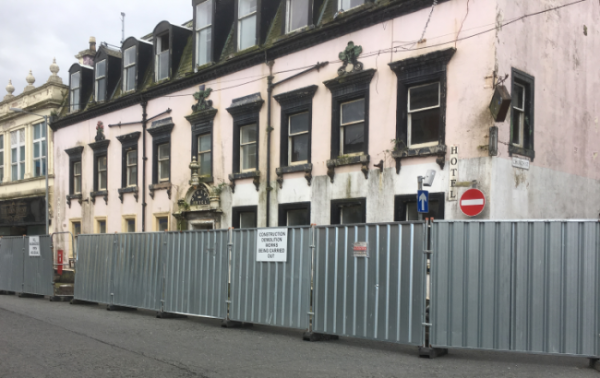 What has happened so far?
2017 - Purchase of George Hotel
2019 - Work to secure structure
Consultation Work Undertaken:
2012 - Stranraer TLC Report
2018 - 10,000 Voices - Young People Consultation
2019 - Discussions with local residents
2019 - Discussions with Local Business
2019 - Stranraer Active Street Review
2021 - David Hume Institute: roots conversation
2021 - RSL housing test study
2021 - Scotland's Towns Partnership: Your Town Audit
2022 - Artists: What we do now.
2022 - Community Council Survey
2022 - Discussion with local groups
2022 - Wigtownshire Health and Wellbeing Partnership: Community Survey
Project Development
Building on the consultation work done to date, an initial exercise exploring potential options for the George Hotel Site was commenced. Collective Architecture was employed by Dumfries and Galloway Council to develop a concept design to include in a Levelling Up Funding application. This work was completed during the spring and summer of 2022. Concept designs were shared with the public to gather feedback and inform design development.
The timescales for this stage were dictated by meeting the funding application deadlines with the funding application being submitted in August 2022.
A longer engagement process is ongoing led be others with Stranraer Development Trust (SDT) appointing dedicated staff for this with input from The Stove Network (creative place-making team who are based in Dumfries).
This exercise aims to develop community capacity and for local people to inform and drive the project forward.
For more information and to view the current proposals for the regeneration of the George Hotel, click the link below:
Download the George Hotel Consultation Boards >> [PDF - 7MB]
Planning and listed building consent for the proposed development was agreed in June 2023. Site plans can be viewed via the link below:

George Hotel Proposed Plans [PDF - 8MB]
Next stages (if the bid is successful)
The design team will continue to develop detailed designs and plan the delivery of the project.
Page last updated: 06/07/2023