Waste Collections During Severe Weather
During high winds, bins can be blown over easily, especially the blue and red bins which contain lighter, recyclable materials. This could lead to rubbish being blown from the bin.
If you think your bin could be blown over during high winds, please refrain from using bungie cords with metal hooks or large bricks as these can cause danger to waste operatives. Please ensure that you are using a wheelie bin lid lock strap and consider the following:
Make sure bin lids are closed and bin is secure - you may wish to use a wheelie bin lid lock strap like below: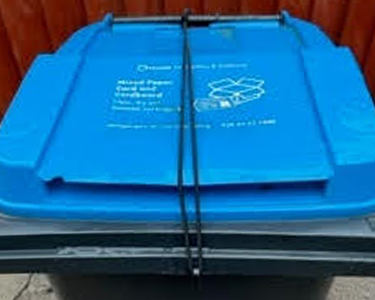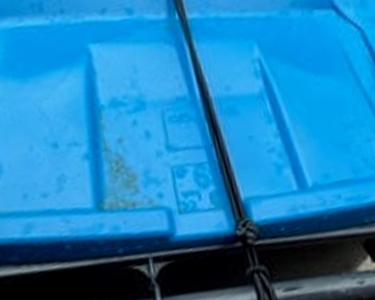 ---
Do not place your bin out the night before, but please make sure it is out on day of collection from 6.30am.
Place your bin alongside a wall or a fence.
Place bins in clusters with your neighbours' bins.
Bring your bin in as soon as possible after collection.
Severe weather (snow, flooding, or weather warnings)
We will continue to collect waste during severe weather, where it is deemed safe to do so. The decision on whether it is safe to continue will be determined by the refuse driver which considers the road conditions and under foot conditions for our staff.
If the driver decides that it is not safe to access an area, they will report this to their manager and our customer service staff/website/social media will all be updated to help answer any questions you may have. If your bin is missed, please check our Missed bin notices where we will update this as soon as possible to advise you when your waste will be uplifted.
You may be asked to leave your bins out for collection for the remainder of the week.
During continuing severe weather
If it is not possible to empty your bin due to continuing bad weather conditions, then please check our Missed bin notices which will be updated with further instructions.
In exceptional adverse weather conditions, it may be necessary to temporarily suspend all refuse collection arrangements in a particular area, if this happens, we will update our social media and website. As soon as conditions improve the service will resume as normal.
Page last updated: 30/03/2023