Roads Service Review
The Council has undertaken a Roads Service Review to assist in improving the service we deliver within our communities.
The review identified significant drivers for transformation across the Roads Service. These included:
The need to complete the integration of the various elements of the Roads Service that were separated across 2 services until the formation of the Roads and Infrastructure Service in 2019.
The need to address resource issues by reviewing the optimum management structure to prepare the Service to meet the requirements of service users.
The need to address the resource issues in the level of funding to respond to the carriageway maintenance backlog and the level of carriageway defects.
The need to respond to the low level of customer satisfaction.
The need to facilitate the transformation of the Roads Service in alignment with the Communities Model, the Council's Transformation Vision and the Council's Transformation Themes
The need to take account of the Roads Service role in the delivery of the Dumfries and Galloway Climate Emergency Declaration.
The need for improved communications with stakeholders.
A Roads Service Improvement Action Plan was presented and agreed at Full Council on 9 February 2021 to implement improvements to address these areas for change. The plan consists of 46 recommendations to be delivered across 5 themes:
Our Team
Communication & Engagement
Resources
Operations & Works Programming
Quality Assurance and Best Value
Roads Recovery Fund
An additional £2.4 million of revenue funding as part of a three year programme of investment in the road network to assist in dealing with the backlog of road maintenance repairs was agreed at Full Council on 4 March 2021.
The 'Roads Recovery' funding will deal with carriageway defects in our towns and villages and carry out drainage matters in the more rural locations This work will be carried out by appropriate subcontractors supporting the service workforce and complimenting the road defect repairs undertaken by the Roads Service as part of the existing annual revenue budget.
By July 2022 Roads Recovery works were completed in Beattock, Dalbeattie, Thornhill, Gretna, Wigtown, Eastriggs, Lowthertown, Sanquhar, Kelloholm, Kirkconnel, Castle Douglas, Newton Stewart, Minnigaff and Stranraer.
The programme is currently underway in Langholm, North-West, Dumfries and Moffat.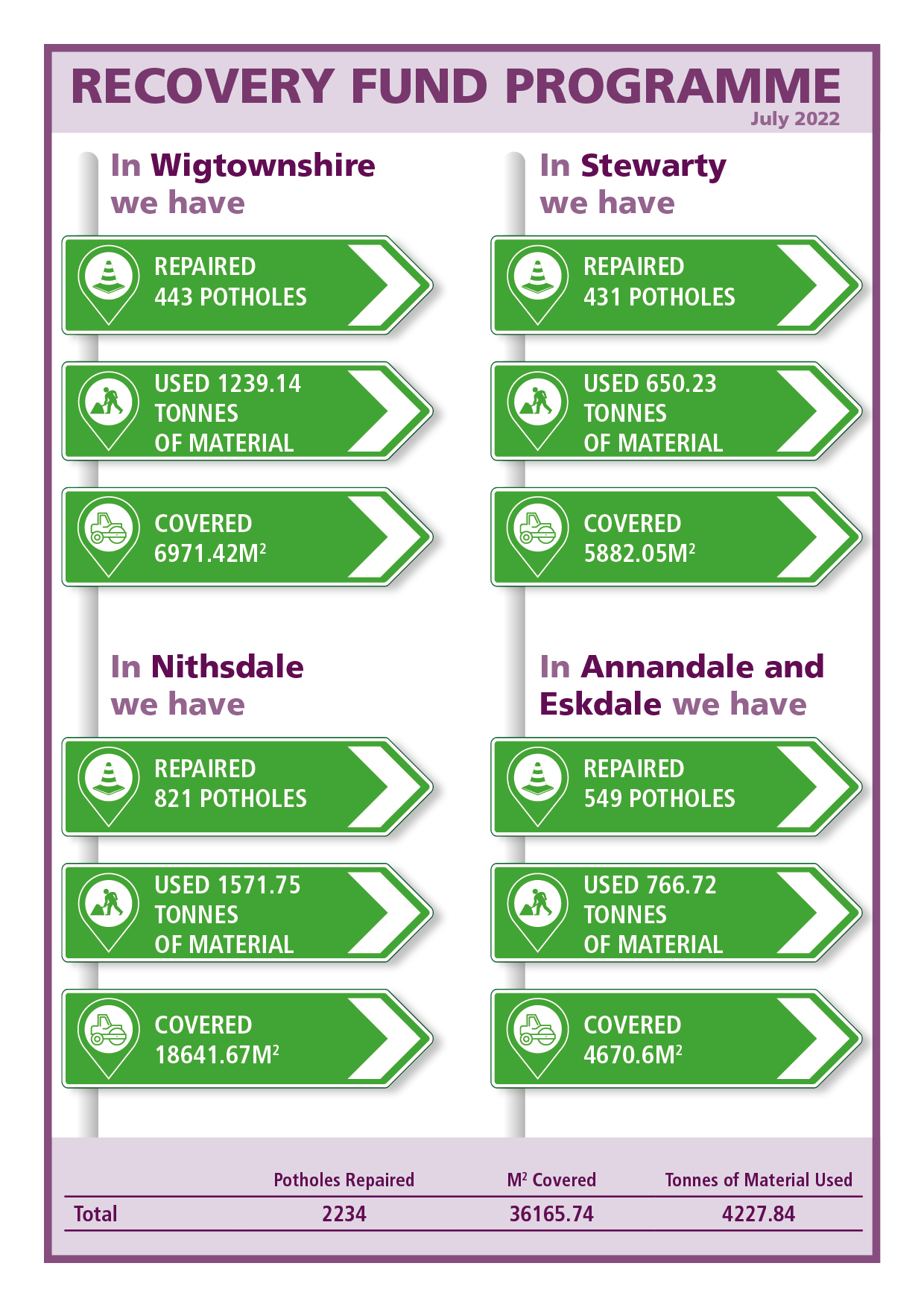 Page last updated: 03/10/2022