Food Waste Recycling Service
We will be provide a food waste recycling service to the following 5 towns:
We provide a food waste recycling service to the following 6 towns:
Annan
Dalbeattie
Dumfries
Gretna
Lockerbie
Stranraer
Why only from these areas?
Legislation only requires the council to collect food waste from the six towns listed above. This equates to approximately 49% of the region's population. Given the rural nature of Dumfries and Galloway, collection of food waste in areas outwith these six settlements would require long distances to travel. While there are environmental benefits to segregating food waste from general waste, the cost of delivering a service to all areas would be high.
This approach meets the statutory requirements placed upon us by Scottish Government who require local authorities to collect food waste from urban areas. It defines 'urban' areas by postcode, and in Dumfries and Galloway, only these six towns are included. This represents the optimum balance of environmental benefits vs cost at this time.
You can check if your address falls within the postcode areas as well as your collection day by entering your address on our Household Waste Collection Schedule tool
The rest of region
Residents who live in an area that will not receive a food waste recycling service can continue to place food waste in their general non-recyclable waste bin.
Home composting is also an excellent way of turning suitable food waste including peelings and cores from fruit and vegetables, egg shells, tea bags and coffee grounds into fertile compost.
Find our more about Home Composting >>
Food Waste Recycling Service for Houses
Residents living in houses in the areas covered by the new service will be provided with a small kitchen caddy, a supply of biodegradable liners and a larger kerbside caddy, as well as information explaining how to take part in the service, what you can and cannot recycle and how to request more food waste liners.
Download a copy of 'How to use your new food waste recycling service' >> [PDF - 408KB]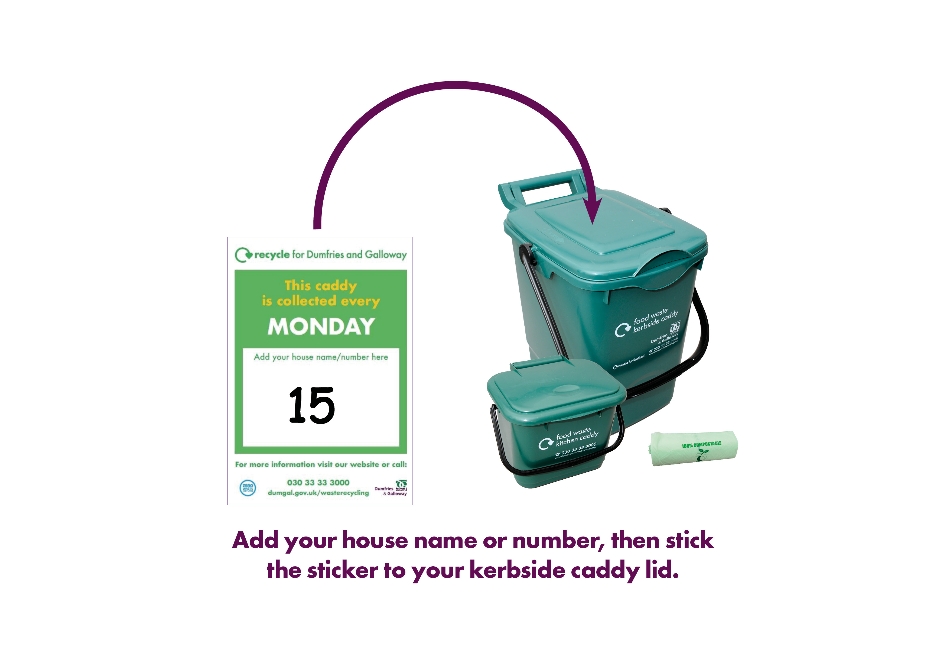 What Food Waste Can I Recycle?
You can recycle all cooked and uncooked food waste using this service - even tea bags and coffee grounds. This includes out of date food, leftovers from meals and leftovers from food preparation.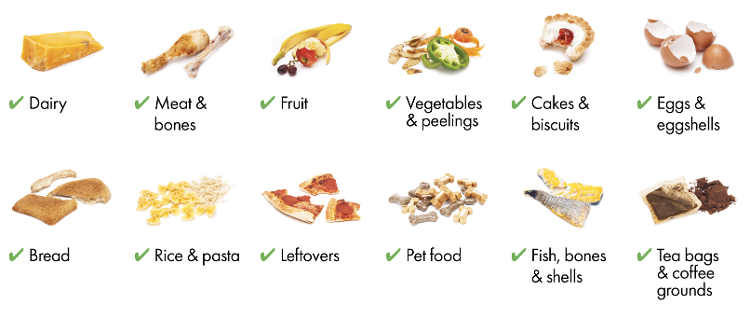 Food waste should be placed in the kitchen caddy using the liners then once full, bagged food waste can be placed into the kerbside caddy, usually stored outside (or communal food waste bin for flats). Place your kerbside caddy out for collection once a week on your usual collection day.

Replacement liners are provided as required. To get more caddy liners, tie a liner to the handle of your kerbside caddy and leave it out on collection day. Our operatives carry liners in the vehicles and will leave a new supply for you.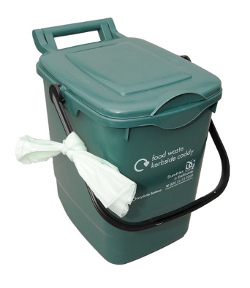 New Food Waste Recycling Service for Flats
Residents living in flats will receive a variation on the collection service provided to houses - in addition to a kitchen caddy and supply of liners, flats will have a shared food waste bin located outside instead of a kerbside caddy. This page will be updated with more information about the food waste recycling service for flats nearer the time of introduction.
Further information
Please see the 'Food Waste Section' of our 'Frequently Asked Questions'
Page last updated: 24/02/2023